Page 3 of 3 •

1, 2, 3

Goose Bay's storied air force base gets a revamped military museum

The Goose Bay military base has been in operation since 1941

Jacob Barker · CBC News · Posted: Jan 25, 2019
---
---
Canadian Forces Base Goose Bay has a new museum to highlight its storied history in Labrador.

"As soon as I seen it, it brought back so many memories," said Goose High School graduate Jackie Compton, standing in front of the sign, prominently displayed on one of the walls of the museum.

"I just had to get a picture with it," she said.
---
---
The base has been in operation for nearly 78 years and was originally built as a staging area for Canadian and American aircraft heading to Britain during the Second World War.

"We wanted it to be a self-guided tour and to make sure that we include many of the artifacts and all the stories that went along with it," said Warrant Officer Jerry Kean, the base's heritage officer.
---
---
Honorary colonel Geoff Goodyear, who flew helicopters in the area at a time when the Allied forces were at their peak, said a highlight for him was seeing displays on German and Dutch fighters jets.

"Watching these things pass underneath you while you were flying along in a helicopter brings back exciting memories," Goodyear said.

I really do hope that in 15, 20 years that in this museum they're going to be covering some of the things we're doing today.
- Lt.-Col. Stephane Racle

"It's an incredibly varied and rich history here from a military and aviation perspective so somebody could come in [to the museum] completely new to the area … and hopefully leave with an interest about what went on and what continues to go on here."

Base commander Lt.-Col. Stephane Racle said the idea was to make a space that was more accessible, easier to navigate and more welcoming than the space it is replacing.

"You need to consider the past to understand the present and to make sure you're well set up for the future," Racle said.
---
---
"I really do hope that in 15, 20 years that in this museum they're going to be covering some of the things we're doing today."
---

Delta




Registered User




Posts

: 49


Join date

: 2018-03-02



Canadian War Museum photography exhibit depicts price paid in war by soldiers

By Christopher Whan Local Online Journalist (Ottawa) Global News

February 14, 2019
A new exhibit was unveiled Thursday at the Canadian War Museum which shows some of the scars former soldiers gained from their time serving in Afghanistan.

Stephen J. Thorne / Legion Magazine via The Canadian War Museum

The Canadian War Museum officially launched their newest exhibit on Wednesday which illustrates, through photography, scars both physical and mental suffered by Canadian forces members who served in Afghanistan.


Dubbed "The Wounded," the exhibit features 18 photos taken by photographer and former journalist Stephen J. Thorne. The black and white photos show the soldiers in their civilian attire with scars from wounds sustained in combat on display."I find black and white is the most powerful medium, said Thorne. "We're bombarded with information every day and it's the rare image that actually makes a difference."

Many of the images feature soldiers with physical scars, such as missing legs or scarred hands. Some feature the subjects wearing their prosthetic limbs and others feature subjects battling psychological scars as well.

According to Thorne, the civilian clothing, the showcasing of scars and even the dark black and white photography all serve to represent the struggles that these men and women have faced after suffering their wounds.

"These 18 images represent more than 2,000 Canadian soldiers who were wounded either physically or mentally in Afghanistan," said Thorne. "I feel that all of these folks have lived, since their wounds, in shadow.""In the process of recovery, they are emerging from these shadows into the light. Recovery for these folks is a process, not a destination."

One of the soldiers featured in the images is MCpl (Ret.) Mike Trauner, who suffered the loss of his legs after stepping on an improvised explosive device while serving in Afghanistan in 2008. Trauner was on hand at the announcement and spoke to not only how these photos have helped his process of healing, but also his hopes that they will have the same effect on others."As a former soldier I'd like to reflect it back to what other soldiers could use it for," said Trauner. "Many soldiers with post-traumatic stress disorder can't normally express it in words, but with an exhibit like this it allows them to express their feelings without having to speak about it."

According to both Trauner and Thorne, in today's world of people consuming multimedia at a breakneck pace, the still image still holds a lot of power in its ability to elicit a powerful emotional response from its viewer."Photos like this are powerful because they are timeless," said Trauner. "They're always going to be here and people are always going to remember what these soldiers have sacrificed for Canada."

"I think photographs, especially at a venue like this, gives people the opportunity to stop and process what they're looking at," said Thorne.

The Wounded will be on display at the Canadian War Museum from February 15 to June 2, 2019.
---

Zodiac




Registered User




Posts

: 61


Join date

: 2017-12-10



Museum reflects on 2018 achievements Feb 25, 2019
---
Shown here is a view of the Greenwood Military Aviation Museum Air Park looking south and showing four of the 11 different aircraft on display. (Malcolm Uhlman) - The Chronicle Herald
---
---

Stealth99




Registered User




Posts

: 77


Join date

: 2018-11-30



Halifax's Army Museum set to mark important anniversary

May 6, 2019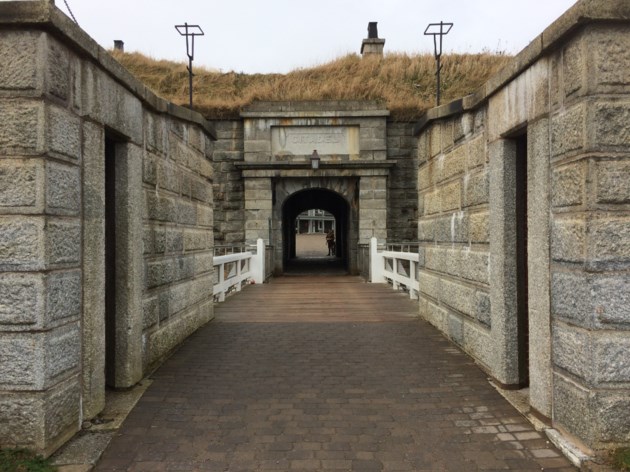 Halifax Citadel National Historic Site
---
Starting Monday, the Army Museum on Citadel Hill officially opens its doors for the season. And in 2019, there are special plans for an important anniversary.

This year marks the 75th anniversary of the D-day campaign in Normandy, France.

To help commemorate the date, the museum has partnered with Veterans Affairs Canada and Parks Canada.

Ken Hynes is the curator of the museum.

He tells NEWS 95.7 it will have new exhibits featuring artifacts from D-day, including an original copy of the operations order for the 3rd Canadian Infantry division's attack on Juno beach, on Jun. 6, 1944.

"We're still working on the case now, and we hope to have it completed by the end of May in time for the lead-up to the 75th anniversary of D-day," explained Hynes.

The original operations order was loaned to the museum by a retired soldier and collector earlier this year.
---

Highlander




Registered User




Posts

: 96


Join date

: 2018-05-03



Sask. Military Museum in need of volunteers, donations
---
Published Tuesday, May 7, 2019

The Saskatchewan Military Museum is reaching out to the public for more volunteers and donations, so the museum can keep the doors open for years to come.

"We'd be able to rotate the displays better," said Lt. (Ret'd) Edwin Williamson, Veteran and volunteer. "We'd be able to archive things and look after things better so we wouldn't lose them. We'd be able to open the doors more often and therefore have more people come through and actually experience the museum, which is what it's here for."

Lt. Williamson served with the Canadian Armed Forces and said it's important to know and understand Canada's military history so all Canadians appreciate the freedoms we have today.

"It's the veterans who have given us the life that we have by their sacrifice and their actions," said Lt. Williamson. "They've created the society we enjoy today and the freedoms that we enjoy today."

Maj. (Ret'd) Keith Inches is the original curator of the museum and he opened it after another Saskatchewan museum was giving away war artifacts. He said to get ahold of the artifacts he needed to have a museum, so he established the Saskatchewan Military Museum in 1984. Maj. Inches wanted to ensure the artifacts were safe, protected and used for education.

"What causes war, that's one thing to learn," said Maj. Inches. "Why do people fight? Why did they fight in the various conflicts we have? Is it political, economic, some of both? It is blind ambition or stupidity, some of both? I think to understand what's going on in the world today we must look at our history, if we don't learn our history we're bound and determined to do it again."

The museum is located inside the Regina Armory and is open on Monday and Wednesday evenings or by appointment. There is no charge to get inside the museum but donations are greatly appreciated.

Both Williamson and Inches feel preserving these artifacts and stories is important, so history doesn't repeat itself.

"This is history, if we lose this it's gone forever," said Lt. Williamson. "People that forget history and can relate to it will kind of repeat it which we don't want them to do."
---

RevForce




Registered User




Posts

: 116


Join date

: 2018-08-29



Juno Beach museum feeling financial pinch despite federal support

Lee Berthiaume, The Canadian Press
Published Wednesday, May 29, 2019
The Juno Beach Centre in Courseulles-sur-Mers, France is pictured in this undated file photo.
---
---

Armour+




Registered User




Posts

: 77


Join date

: 2018-01-31



RCAF veteran hopes to show war efforts of women at museum

CBC News · Posted: Jun 06, 2019
Candace Spencer is working on her third degree at the University of Windsor.
---

Ranger66




Registered User




Posts

: 89


Join date

: 2018-01-25



Bush's soldier portraits stir bitter memories, raise difficult questions

CBC News · Posted: Jun 30, 2019
---

Stealth99




Registered User




Posts

: 77


Join date

: 2018-11-30



Chieftain tank outside Legion going to museum, Leopard 1 eyed as replacement

Published on: July 5, 2019
---

Mojave




Registered User




Posts

: 60


Join date

: 2019-02-06



Page 3 of 3 •

1, 2, 3


Similar topics
---
Permissions in this forum:
You
cannot
reply to topics in this forum