One of the Canadian Forces SkyHawks, in full flag mode, drops in to Okanagan Lake Park during one of two jumps on the first day of the 2018 Penticton Peach Festival Wednesday.
---
Snowbirds and SkyHawks returning to Peach Festival

A pair of Penticton Peach Festival favourites are dropping by the festival

PENTICTON NEWS STAFF / Feb. 7, 2019 7

A pair of Penticton Peach Festival favourites will be dropping in to Okanagan Lake Park at this year's festival.

The Canadian Forces Snowbirds and The SkyHawks have officially announced they will perform for one show only at PeachFest, thanks to the sponsorship of Peters Bros. Construction.

"As we are every time the Canadian Forces Snowbirds confirm their attendance at Peach Festival, our committee is ready and excited to host the world's best aerobatic squadron," said Fred Trainor, chairman of the Snowbirds committee.The Canadian Forces Snowbirds, 431 Air Demonstration Squadron are comprised of Canadian Armed Forces members and National Defence Public Service employees.

Pilots, technicians (aviation, avionics, aircraft structure, supply), mobile support operators, resource management support clerks, an engineering officer, a logistics officer and a public affairs officer representing all three elements (Army, Navy and Air Force), work as a team to bring thrilling performances to the Canadian public.

Serving as ambassadors of the Canadian Armed Forces, the CF Snowbirds demonstrate the high level of skill, professionalism, teamwork, discipline and dedication inherent in the men and women of the CAF and they inspire the pursuit of excellence wherever they go in North America.

"We are thrilled to once again to welcome the Snowbirds and Skyhawks to the Penticton Peach Festival. They are easily PeachFest favourites and always put on a spectacular show," said Don Kendall, Peach Festival president.

The Canadian Armed Forces Parachute team, The SkyHawks, is Canada's only military parachute demonstration team. For over 40 years, they have represented Canada and the Canadian Armed Forces to over 75 million spectators worldwide. This is the third consecutive year they will perform at Peach Festival

The Snowbirds team will fly into Penticton on Tuesday, Aug. 6 and perform at 6 p.m. on Wednesday, Aug. 7. They also will hold a public autograph session — time and location is yet to be determined.

The SkyHawks will also perform for one show only on Wednesday, Aug. 7 at 5 p.m., landing in Okanagan Lake Park.

For more information on the Penticton Peach Festival visit www.peachfest.com or follow them on Facebook @PentictonPeachFest, Twitter @Peachfest2019 and on Instagram @PentictonPeachFestival.
---

Zapper-88




Registered User




Posts

: 92


Join date

: 2018-04-06



Cpt. Kilroy soars in Royal Canadian Air Force

Kilroy will travel across the country to perform at a number of airshows and teach the public about his work as an aviator.

Published on: February 8, 2019
Captain Brian Kilroy with one of his CF-18's at an airbase. A former Stony Plain resident, Kilroy was recently named to the Royal Canadian Air Force's CF-18 Hornet Demonstration Team for 2019.

Brian Kilroy will see one of his ambitions from his youth take flight this summer when he begins doing public outreach events for the air force.

In December 2018, the 34-year-old former Stony Plain resident was named by the Royal Canadian Air Force as a member of their 2019 CF-18 Demonstration Team. Kilroy will travel across the country to perform at a number of airshows and teach the public about his work as an aviator.

"Growing up my parents took me to airshows," he said. "I got to see the [CF-18] Hornet demonstration a few times and that is kind of what got my whole aviation spark going to begin with. I have been flying it [since 2013]."

Each year, the demonstration team rotates between different bases and recently came up to CFB Cold Lake to look for applicants. Kilroy thought it would be interesting and submitted a memo on why he would be a good candidate. For him, much of his quality was rooted in giving back publicly.

"For me, the interest was in giving back a bit as opposed to doing tactical work which the public does not see," Kilroy said. "It is nice to sort of show what we do. I have been on other public relations events and sort of enjoyed it so it will be interesting to do it in the summer and [educate the public]."
Captain Brian Kilroy with colleagues from the air force.

While many are familiar with the 431 Air Demonstration Squadron Snowbirds out of Saskatchewan, Kilroy was quick to note his demonstration team is rather different from the better-known group. They fly a different plane and do formation flights together, whereas the CF-18 team rotates location and also changes up members at the end of every demo season.

"I am just on it for the 2019 airshow season," he said. "We start training in an April-May timeframe and the first show is in June. I do the shows and then train pilots for the next season. I am being trained by the 2018 team."

Kilroy's military career has taken him to Romania and Iraq. Though he now finds himself performing a different mission, he is still hopeful he can make an impact. Less than one per cent of Canadians serve in the armed forces, but through being a demonstration team member, he thinks he can ignite the spark in the next generation and find someone like himself in the nation.

"When we are out with people, you see the kids sparkle," Kilroy said. "I am hoping someone out there is like me and will be in my spot someday doing the next generation demonstration team. I hope it impacts future fliers."

For the moment, he has not performed as a team member yet, but his family is proud.

"His dad and I are extremely proud of Brian's accomplishments," mother Vivian Kilroy wrote in a Facebook message to the Reporter/Examiner. "He knew he wanted to fly even when he was a little boy … I guess I inherited the love of flying from my dad and I guess I passed it on to my child."

The schedule for the 2019 team will see Captain Kilroy visit 15 different sites across Canada as well as the Parliament Hill flypast on Canada Day. He will be in Springbank, Alberta from July 27-28 and Edmonton from Aug. 17-18.
---

Spider




CF Coordinator






Posts

: 124


Join date

: 2017-10-08



Warriors Learn About Teamwork from Snowbirds

Published: Wednesday, 13 February 2019
Written by Marc Smith
Tristin Langan, Justin Almeida, Luke Ormsby and Brodan Salmond flew with the Canadian Forces Snowbirds on Tuesday at 15 Wing Moose Jaw.
---

Apollo




CF Coordinator






Posts

: 100


Join date

: 2018-04-14



North Bay set to host largest Armed Forces Day

Published on: February 26, 2019
Col. Mark Roberts, 22 Wing North Bay Wing Commander speaks to the local media Tuesday at city hall about Armed Forces Day, which takes place June 12.
---
North Bay will host the country's largest Armed Forces Day in June.

The city will roll out the red carpet to welcome the CF-18 Demonstration Team and the Snowbirds who will perform their routines over the North Bay Waterfront on June 12.

The 9th annual celebration will also include live music from Canadian Forces Base North Bay 22 Wing Band, static displays of a F-18 cockpit and armed personnel carriers.

Hundreds of school-aged children will also be in attendance, as well, the event is free and open to the public.

The celebrations will continue into the evening with musical performances and possible demonstrations at the waterfront.

Those details haven't been released at this time.

Col. Mark Roberts, 22 Wing North Bay Wing Commander, said it's an emotional and special event.

"The relationship we have with the city and the community is nothing I've ever seen before. It truly signifies the bond we have in this community," he said during Tuesday's press conference at city hall.

"We've had this relationship for decades."

The event is sponsored by local businesses and community organizations. The price tag is between $20,000 to $30,000, said Honorary Col. George Burton.

He said the plans aren't complete just yet. The organizing group, which includes honorary colonels, have a surprise or two up their sleeve.

"We're competing for assets to come to North Bay," Burton said. "Each year we've been blessed to secure one, but this year we have two. The one thing is that all of the teams that do come to North Bay leave with such a positive impression each year they want to come back."
---

Powergunner




Registered User




Posts

: 141


Join date

: 2018-06-05



Snowbirds coming to air show in Debert

The CoastGuard
Published: March 13, 2019
Three members of Canada's famous Snowbirds perform a close pass during the 2004 Nova Scotia International Air Show. - File
---
The Canadian Forces Snowbirds demonstration team will perform in Nova Scotia this summer at the Debert Airport.

The Truro Flying Club and the Nova Scotia International Air Show Association are producing a military air show at the airport on June 19, Airshow Atlantic announced Tuesday.

It will be the first time the Snowbirds have performed at the Debert Airport, a former British Commonwealth air training base in the Second World War and the centre of general aviation flying training in Nova Scotia today.

"Truro Flying Club is over the moon excited to have the CF Snowbirds perform in Debert," airport manager Denyse Sibley. said in a release. "This is a great opportunity to showcase a spectacular aerial performance and put the Debert airport on the map." says

The event will be promoted through the Air Show Atlantic web site when additional participants are confirmed and ticket prices determined in the coming weeks. in the coming weeks. More information is available at www.airshowatlantic.ca or Air Show Atlantic on Facebook.
---

Stanleyz




Registered User




Posts

: 61


Join date

: 2018-02-04



Saskatchewan Airshow takes to the skies in July

Regina / 980 CJME
CJME News
May 13, 2019 1
---
As a product of Moose Jaw, Col. Denis O'Reilly is more than a little familiar with the Saskatchewan Airshow.

On Monday, his excitement was evident as he discussed the airshow's return to 15 Wing Moose Jaw with 980 CJME's Greg Morgan Morning Show.

The airshow hasn't been held since 2005, so O'Reilly — the base commander — is glad to see it return in July.

"This airshow is really important," he said. "After a 15-year hiatus, we're very proud to bring it back to the people of Saskatchewan."

The show is set for July 6-7 and will feature the Canadian Forces Snowbirds demonstrations team. O'Reilly pointed out that the pilot of Snowbird 1, Maj. Denis Bandet, hails from Regina, which in O'Reilly's mind only adds to the lustre of the show.

"We're excited to showcase local talent but also national-level talent for the province of Saskatchewan," O'Reilly said.

In addition to the Snowbirds, O'Reilly said the show will feature demonstrations by a CF-18 Hornet, a United States Air Force F-16, a T-33 trainer, a Second World War-era Harvard trainer and civilian aerobatics performers.

"We've got about four hours of action-packed aerial demonstration," O'Reilly said.

There also will be static ground displays to give patrons an up-close look at aircraft on the tarmac.

Tickets can be purchased here. Until June 24, adult tickets cost $20, and tickets for teens, seniors and veterans are going for $15.

After June 24, adult admission will be $25 per ticket, while tickets for teens, seniors and veterans will cost $20.

Children under 12 will get in free.
---

kodiak




Registered User




Posts

: 65


Join date

: 2018-04-14



May 16, 2019

Tickets on sale for Peterborough Air Show featuring aerial demonstrations
The Canadian Forces Snowbirds will headline the Peterborough Air Show in September.
---

Garrison




Registered User




Posts

: 141


Join date

: 2018-02-21



Barrie's beaches will be buzzing this summer, starting overhead

May 31, 2019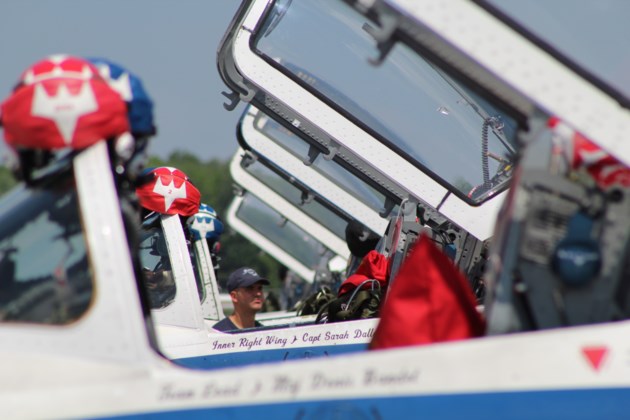 ---

Phrampton




Registered User




Posts

: 74


Join date

: 2017-11-22



Snowbirds to take flight in Nova Scotia next week

June 12, 2019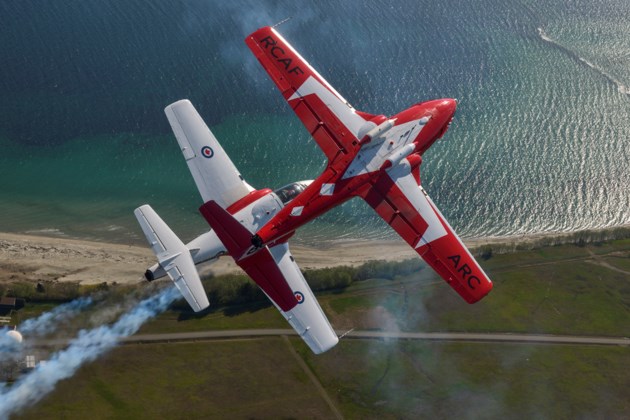 ---

Glideon




Registered User




Posts

: 52


Join date

: 2017-11-19




---
Permissions in this forum:
You
cannot
reply to topics in this forum