Family members of Pte. Thomas Welch receive the Memorial Cross more than 13 years after the Afghanistan veteran's death from suicide.Nov 10, 2017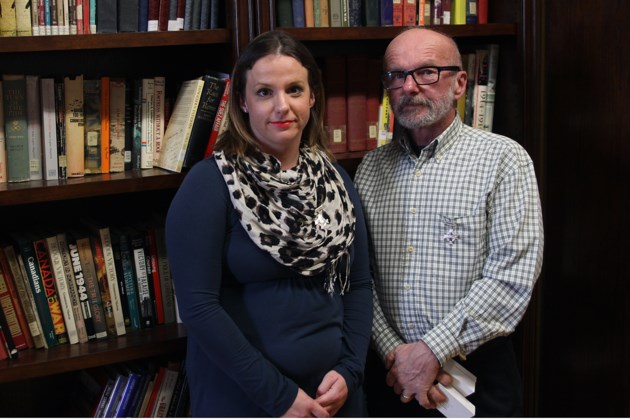 Michelle Welch and Dan Welch, the sister and father of Pte. Thomas Welch, received the Memorial Cross on Friday more than 13 years after the Thunder Bay soldier's death.
THUNDER BAY – Thirteen years, six months and two days have passed since the death of Pte. Thomas Welch, a Canadian Armed Forces veteran who served in Afghanistan and committed suicide on May 8, 2004.
His family has spent much of the nearly decade and a half that followed by urging the military to acknowledge Welch's death was linked to his service overseas. On Friday, one day before the nation pauses to honour its fallen soldiers, Welch's father, stepmother, sister and seven-month-old nephew were finally given the Memorial Cross in recognition of his ultimate sacrifice.
"Remembrance Days have been very hard because Thomas was a part of the military but it wasn't recognized that his death was because of his service. We were like an outsider on Remembrance Days," said sister Michelle Welch after receiving the mementos at the O'Kelly Armoury.
"(Saturday) we'll be able to stand there and be recognized as a family who lost their loved on to war."
The 22-year-old from Thunder Bay was the first Canadian soldier who served in Afghanistan to commit suicide just three months after returning to home soil. His death was viewed by the military separately from his service, and the honours such as the Memorial Cross and mention in the Book of Remembrance typically awarded to soldiers who died as a result of their duty.
"The recognition of his death being associated to his service in Afghanistan is an important piece to being able to overcome our loss," she said.
Brig.-Gen. Steve Cadden, commander of 4th Canadian Division, travelled to Thunder Bay to lead the service for the family and said it's important to remember the sacrifice.
"It represents a chance for us to acknowledge the experiences Tom had overseas in Afghanistan and the role they very likely played in his death," Cadden said.
"There are really two aspects. One is for the family to get that recognition, the tangible link to what he's done and to what happened to him. The second part is for our men and women in uniform so that they know we do care. We care about them, we care about their families. We care about them the day after they join, we care about them 13 years after they're deceased."
The Welch family is far from alone in grieving the death of a loved one by suicide after military service. Earlier this year, the Department of National defence released statistics that show more than 130 veterans have committed suicide since 2010.
"Our fighting for policy to change will hopefully help other families not have to suffer what we have suffered," Michelle Welch said.
"The fact they've given us this honour and recognized that the things Thomas had seen overseas did lead to his suicide is acknowledging that mental health matters and ignoring mental health won't make it go away. In order to save others and save other families from going through this that the tough discussions need to be had."
https://www.tbnewswatch.com/local-news/impact-of-military-sacrifice-acknowledged-in-veterans-death-763816


Similar topics
---
Permissions in this forum:
You
cannot
reply to topics in this forum