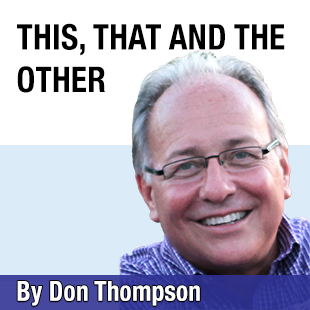 By Don Thompson
November 13, 2017
Last Saturday, we celebrated Remembrance Day in Canada and Veterans Day in the United States. Actually, it's an official holiday in all territories and provinces in Canada except Ontario, Quebec and Nova Scotia. It's a national holiday in the States. A holiday commemorating those who serve shouldn't be confusing…but it can be.
Originally, Nov. 11 commemorated those who served in World War I…or as it was known then, The Great War. Well, Britons and Canadians called it The Great War, Americans and somewhat oddly, Winston Churchill, called it the World War. And before America entered the war…Americans called it the European War.
Regardless, at the eleventh hour on the eleventh day of the eleventh month in 1918, armies stopped fighting and The Great War or World War ended. Well, actually, the war ended officially almost eight months later on June 28, 1919, with the signing of the Treaty of Versailles.
Remembrance Day and Veterans Day were once known as Armistice Day in both Canada and the U.S. Unofficially, it's also known as Poppy Day in Canada. However, National Poppy Day in the U.S. - by Act of Congress - falls on the Friday preceding Memorial Day, which is the last Monday in May. And for those wondering, Veterans Day in the U.S. honours all veterans…Memorial Day honours those who died serving.
I honour all veterans - Canadian and American - on these days…and every day. I served in the United States Air Force from 1969 to 1973, part of that time alongside my brothers and sisters in the Royal Canadian Air Force. I served my country proudly…and I think I'm a better man for having served.
Still, the American experience in Vietnam was long and painful. And while I served proudly…I also helped lead the Vietnam Veterans Against the War movement at the University of Florida after leaving the Air Force. I share this only for context…not to debate either side of the American Vietnam War. My point - and it shouldn't be lost in political and ideological discussions - is that Veterans deserve our support…our gratitude as a people…as a nation. Those of us who served didn't make policy…and soldiers don't get to selectively disregard orders they don't like.
I think we should all say, "Thanks for your service" to a soldier or an airman or a sailor or a marine when we cross paths. I say it myself to those in uniform at an airport or in a restaurant. They should know we care. If I see someone older…wearing a cap identifying themselves as a veteran, I thank them, as well.
But, to make this relatively easy gesture and somehow believe that it relieves us of any other obligation…is simply not right. Just as two-minutes of silence on Remembrance Day and Veterans Day doesn't absolve us from caring about veterans or those who serve currently.
The Federal governments in both Canada and the United States have a plethora of programs to help veterans…under broad categories of health, disability and well-being, financial support and transition to civilian life. Some programs are better than others…but both Canada and the U.S. often talk the talk better than walking the walk. Politicians rarely miss a photo-op to show they support veterans, but they aren't as plentiful when it counts…planning budgets…and spending money.
Too many disabled veterans live in poverty or are homeless. It's hard to say how many…the government doesn't aggressively pursue the answer. But, experts - often from not-for-profit organizations - say somewhere between four percent and six percent of veterans are homeless. Financial strains are common. Before 2006, disabled veterans had a pension that would support them throughout their lives. Since then, disabled veterans get a lump sum…and in many cases it simply is not enough to support them until death.
We all need to stay abreast of what government is doing so that nothing changes for the worse…and, indeed, wherever possible, things get better. I encourage everyone to visit veterans.gc.ca at least once a year to see what we're doing for veterans and survivors. We owe that much. As a nation, we are ethically, morally, socially, and legally obligated to care for veterans and their survivors. Government lawyers often see it differently and have argued so in suits filed by veterans.
About one million Canadians - men and women - served in World War II. More than 60,000 of those veterans are alive today…average age…92. They proudly wear caps, uniforms and medals once a year…and honour their comrades who did not make it back alive. These are veterans…even heroes. But, all told, Canada has nearly one million veterans…roughly one out of every 35 residents is a veteran.
The definition of a veteran might not be what you think it is. In fact, there seems to be contradicting "definitions" of what a veteran is even within the government. Personally, I like the definition from Our Duty, a non-profit organization devoted to encouraging citizen involvement in society and a vocal advocate for veterans.
"A veteran is anyone who took an oath to be ordered to die for Canada - generally in the Forces or RCMP. Becoming a veteran takes place at the time of the oath."
Some Canadians don't realize members of the RCMP are considered veterans. But they are posted around the world…including recently training the Afghan police force…and in a host of other dangerous spots. Canadians have undertaken 33 peacekeeping missions over the years…Rwanda, the Balkans, Sudan, among others. These men and women are veterans, too.
Please don't rely solely on our government to aid veterans. Look for other ways to honour them…help by giving veterans rides for medical treatment...or buying groceries…sending an e-card or letter to a veteran…buying a veteran lunch. Anything we do for one honours all. And quite frankly, our veterans deserve it.
I would be remiss not to mention a dark period in our Forces history. The Canadian Forces suffered massive budget cuts in the 1990s…with concomitant reductions in training as a result of the Somalia Affair…when two members of the Canadian Airborne Regiment beat a Somali teenager to death. Abhorrent, it was Canada's My Lai Massacre in terms of loss of public confidence and support for the military…and veterans.
Today, Canadian Forces are one of the most highly trained military forces in the world…with a highly educated officer corps. I remember being spit on as I walked through an airport returning home in my Air Force uniform. I served honourably…and didn't deserve that. Likewise, today's Canadian veterans don't deserve ill treatment and disrespect for the actions of a few more than two decades ago.
This past Saturday, we wore poppies, stood silent for a couple minutes, thanked veterans we knew or passed as we shopped or ran errands. That's all good…it simply isn't where we should stop. Let's all promise to do more this coming year to help those who voluntarily step up every day to protect our freedoms and make us safer than we might be otherwise. Meanwhile, to my veteran brothers and sisters throughout Canada and the United States, "Thanks for your service."
– Don Thompson, an American awaiting Canadian citizenship, lives in Vernon and in Florida. In a career that spans more than 40 years, Don has been a working journalist, a speechwriter and the CEO of an advertising and public relations firm. A passionate and compassionate man, he loves the written word as much as fine dinners with great wines. His essays are a blend of news reporting and opinion.
http://infotel.ca/opinion/don-thompson/thompson-our-veterans-and-remembrance-day/it47526

Forcell




CF Coordinator






Posts

: 123


Join date

: 2017-10-08




---
Permissions in this forum:
You
cannot
reply to topics in this forum