Groups supports injured and ill military members, veterans, first responders and their familiesBy Anjuli Patil, CBC News
Posted: Feb 06, 2018
The Canadian General Standards Board will meet later in 2018 to discuss national standards in training for service dogs. (Steve Berry/CBC)
A Canadian mental-health charity announced Tuesday in Halifax it will spend $300,000 this year to train 25 PTSD service dogs and pair them with veterans and first responders who need the support.
"With the support of Canadians … you will see dogs that have been cleared to the highest standards we currently have and will meet the coming national standards when they are released," said Phil Ralph, national program director of Wounded Warriors Canada.
The Canadian General Standards Board, a federal government organization, has been holding meetings as it develops standards governing service dogs.
Thai is a PTSD service dog who belongs to Medric Cousineau. (Steve Berry/CBC)
There were 15 service dogs and their handlers at the announcement by Wounded Warriors, a group which supports ill and injured Canadian Armed Forces members, veterans, first responders and their families.
Medric Cousineau, a veteran and co-founder of Paws Fur Thought — an organization that works to pair PTSD service dogs with veterans and first responders in need — said the announcement is "huge."
Fifteen service dogs and their handlers attended the announcement at Halifax Central Library on Tuesday. (Steve Berry)
"It lays the framework for future expansion that will allow us to further deliver on our mandate," said Cousineau.
Cousineau brought his service dog, Thai, a yellow Labrador retriever, to the announcement.
Wounded Warriors Canada is investing $300,000 for 25 more service dogs. (Steve Berry/CBC)
Before being paired with Thai, Cousineau said he struggled from PTSD, dissociative episodes, panic, anxiety, addiction and night terrors for more than 20 years.
"These dogs, they open doors. They allow us to do things and I'm so lucky because there could have been a much different outcome to this story, a very dark outcome that would sadly end with an obituary," said Cousineau
Some of the service dogs at the announcement were still training. (Steve Berry/CBC)http://www.cbc.ca/news/canada/nova-scotia/wounded-warriors-invests-300k-in-25-new-service-dogs-1.4523113

New funding cuts down service dog wait times for veterans, first responders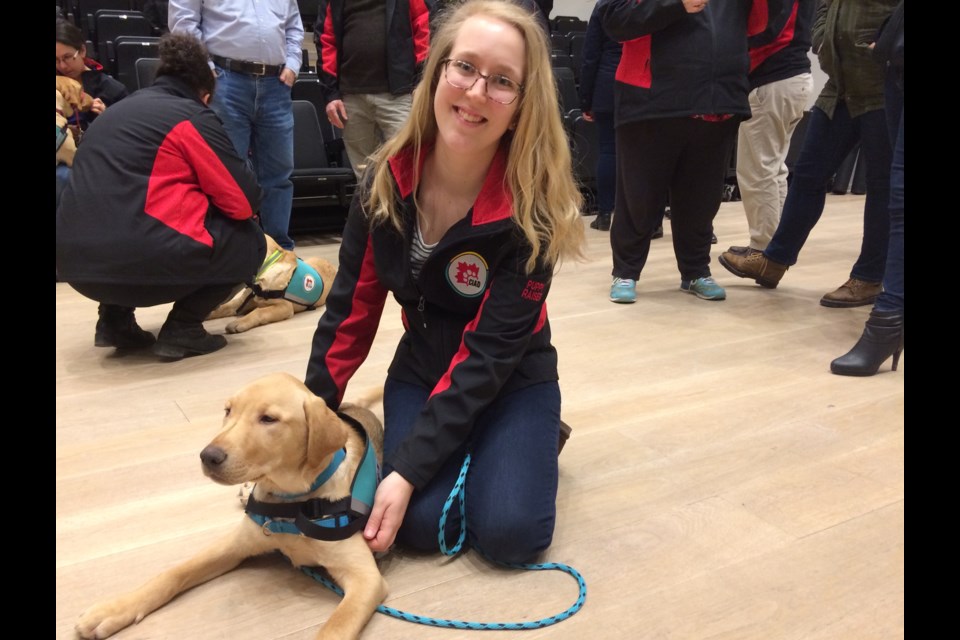 https://www.halifaxtoday.ca/local-news/new-funding-cuts-down-service-dog-wait-time-for-veterans-first-responders-3-photos-832672

Newf




Registered User




Posts

: 33


Join date

: 2017-10-08





Similar topics
---
Permissions in this forum:
You
cannot
reply to topics in this forum